What is a Structured Network?
When your home is wired with a Structured Network all of your cables originate from a single centralised location.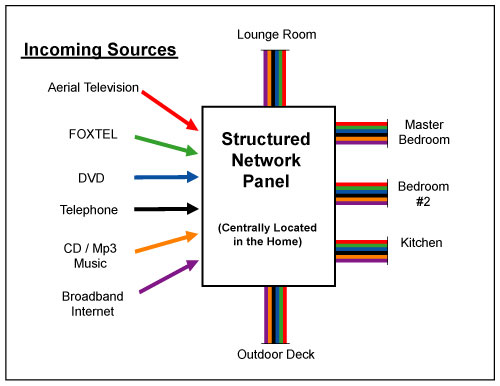 This enables you to Watch, Listen and Enjoy the following in any room of your home:
- CD / Mp3 Audio
- DVD
- Off Air Television
- FOXTEL
- Internet
- Phone
With the Structured Network in place your home technology (Audio, Video, Internet, Security and even heating and air conditioning*) is capable of being controlled from any location in your home via a Control System.
Additional Structured Network benefits:
- Improved Signal Quality
- No Splicing (Splices are a major cause of cable failure)
- Troubleshooting is simplified
- Expansion and Update of equipment is much easier in the future
With a Structured Network in place the limitations are set only by your imagination.